About Me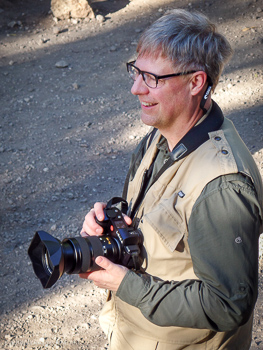 Photographer
Truth be told, I have a day job. I own a small CPA firm which, among many services, works with non-profit organizations. However, photography is engrained in who I am. From developing film in the 1970's with my father and teaching black and white chemistry at the University of North Carolina at Chapel Hill, to adding digital work to that tradition in the mid 2000's, I have always looked for ways to document what is around me. I am self-taught and still learning. I call myself a photographer because that is who I am. I have some accomplishments as a photographer and continue working towards the creation of art and documentation of history.
Artist and Scientist
I love art and I love science. There is no better mix of the two than Photography. I taught black and white film photography in the physics lab at the University of North Carolina at Chapel Hill while a student. That was the era where photography was a course in the science department because light, lenses and chemistry were the nuts and bolts of making images. Since then, I have continued the tradition of 35mm film photography working through various Ilford and Kodak bulk films, developing the images, and scanning negatives finishing with the digital workflow from that point forward. I also practice digital photography in both the 35mm format and medium format, using what I learned with film.
Current Projects
My current projects include our natural resources on the coasts of South Carolina. Specifically on Folly Beach we have an abundance of sea turtles that nest each year and dolphins that perform a fish chasing ritual seen in only a handful of places worldwide. Sand, nature and humans co-exist in this changing ecosystem. However, one thing remains constant - the ecosystem is interdependent, and therefore fragile. Both internal and external influences can have a drastic effect on the island. More importantly, coastal islands protect the inland areas and also provide significant help to our natural resources. Coastal South Carolina islands and marshes clean large amounts of water through oyster beds and second only to Louisiana, produce more oxygen per square mile of marsh than the Amazon Rain Forests. This interdependency is being disrupted by human waste both on the island and far away. Air pollution causes harm to plants and animals. Warming trends have increased the height and number of King Tides causing more flooding and displacement of land wildlife. My current project documents and discusses these issues and my first book is in the works - Seasons of the Sand.
Things to Note
I have been honored that several of my images have been selected as Master Shots with Leica Fotographie International (LFI) and others awarded a category in their online Gallery. These are shown below. I have images in the Selections of Excellence with The Leica Meet and I have sold multiple prints at auction for charity and to individual collectors. I have published several photographic collections in print and I am working on various documentary projects surrounding environmental and humanitarian projects.
Most recently I have started a non-profit organization called Mission Photography where I promote the education of social and humanitarian projects worldwide through documentary photography. During 2017 I finished my first work, A Fly in the Donkey's Eye about Bayonnais, Haiti. The first 20 books are signed and numbered and all of my work there has a charitable contribution component. So, donors receive a book written in the style of National Geographic and full of images that allow you to see what Bayonnais is like. Donors also receive a charitable deduction in the United States for a portion of the purchase price. Visit the Mission Photography Website or check us out on Facebook - @MPhotoNP. I have also published photographs used in the documentary work on this site.
Leica Cameras
Leica cameras are small and reliable. I still use a 1949 Leica IIIC with black and white film. My favorites are two Leica MP film bodies. On the digital side, I use the Leica SL and Leica S bodies. The Leica SL is a mirrorless system that will work with my Leica M, R, SL and S lenses along with some old Nikon glass I use. Leica has released and M10 series which is the same size as the Leica MP film bodies. I use the M-10D, which has no LCD screen on the back and is extremely quiet.
My favorite lenses are the Summilux-M 75mm f/1.4, Summilux-M 28mm f/1.4 ASPH, APO Summicron-M 50mm f/2 and Summilux-M 50mm f/1.4 ASPH. I also enjoy using a 1990's Leica R 280mm f/2.8 lens with a 1.4x converter for wildlife. and an old Nikon 500mm f/8 mirrored lens (version 2) for images of the moon. Ultimately, I find the simplistic usability of Leica cameras and the interchangeability of lenses and camera bodies provides the perfect tool.